12DAYS 11NIGHTS HOP ON HOP IN CIRCUIT (TC2005)
---
File Download: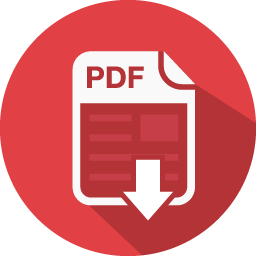 TC2005-12D11N Hop On Hop In Circuit valid April2020-March2021 - Client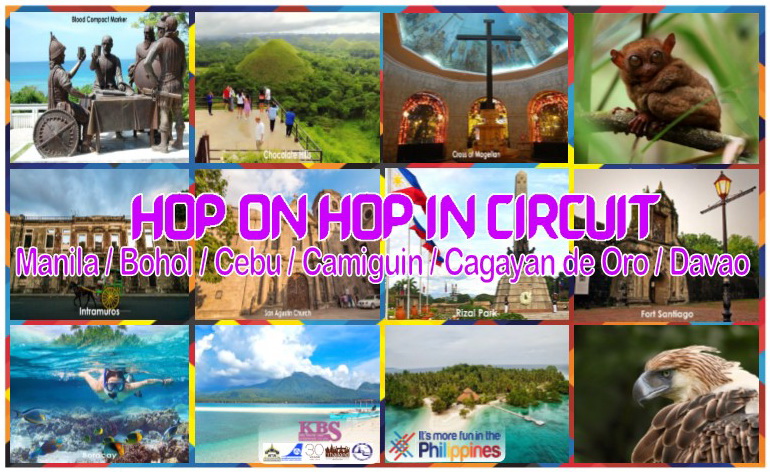 HOP ON HOP IN CIRCUIT 


Manila/Cebu/Bohol/Camiguin/Cagayan de Oro/Davao
12days/11nights 
ITINERARY
Day 01 – Arrival Manila
Arrive Manila, meet and assist by our Representative. Transfer to the hotel. Overnight Manila.
Day 02 – Old Manila City tour (Breakfast)
Breakfast in the hotel.
Have a glance of the rich cultural and historical contrast of the Old and New Manila. Visit Rizal Park, the walled city of Intramuros and tour Fort Santiago. Proceed to San Agustin church, on to Makati the financial and commercial district of today. Overnight accommodation.
Day 03 – Manila/Bohol (Breakfast)
Breakfast in the hotel.
Transfer to domestic airport for flight to Tagbilaran, Bohol. Arrive Tagbilaran Airport. Meet and transfer to the resort. Overnight Bohol.
Day 04 – Chocolate Hills/Loay Rivercruise (Breakfast / Lunch)
Breakfast in the hotel.
Tour starts with a visit of the blood compact marker, then the Baclayon church and museum. Proceed to the magnificent Chocolate Hills passing through the man- made mahogany forest and a short stop to have an eye to eye encounter with the tarsier (the smallest monkey specie). Onboard a motorized boat, cruise Loay/Loboc river where lunch will also be served. Overnight Bohol.
Day 05 – Bohol/ Cebu City (Breakfast)
Breakfast in the hotel.
Morning ferry transfer to Cebu. On arrival Cebu City tour. Tour of Cebu City will let you trace history, from the Spanish inspired fort San Pedro to the relic cross of Magellan and the Basilica of Sto. Niño. Then drive thru oldest street onto Beverly Hills for a panoramic view of the entire city.
Day 06 – Cebu/Camiguin (Breakfast)
Breakfast in the resort.
Transfer to Mactan airport for morning flight to Camiguin. Proceed tour of the island which visit the Walkway to Old Volcanoes, Sunken Cemetery, Gui-ob Old Church ruins, Soda Water Swimming pool, Sto Nino Cold Spring, Katibawasan Falls, Mantigue Island. Overnight Camiguin.
Day 07 – Camiguin/White Island (Breakfast)
Breakfast in the resort.
Proceed to White Island. At leisure to swim in the island. Overnight in Camiguin
Day 08 – Camiguin/Cagayan de Oro (Breakfast)
Breakfast in the resort.
Transfer to Cagayan de Oro. Cagayan de Oro City tour. This will visit St. Augustine Cathedral, Sendong marker, City Museum (in a water tank), Divisoria Plaza, Museum of Three Cultures, Provincial Capitol Grounds, General Douglas MacArthur Marker and the souvenir shop. Overnight Cagayan de Oro.
Day 09 – Cagayan de Oro/Davao (Breakfast)
Breakfast in the hotel.
Transfer to Cagayan de Oro Airport for flight to Davao. On arrival in Davao, transfer to the hotel. Overnight Davao.
Day 10-Eden Nature Park/Philippine Eagle/Malagos Garden (Breakfast / Lunch)
Breakfast in the hotel.
A scenic drive will take you to Malagos countryside where the Philippine Eagle Center is and see the endangered Philippine Eagle in their natural habitat. Proceed to slopes of Mt. Tolomo passing by plantations and nurseries to Eden Nature Park. Enjoy at sumptuous lunch at Vista Kiosk where fresh vegetables from their garden will be served. Return to the hotel. Overnight Davao.
Day 11 – Samal Island hopping (Breakfast)
Breakfast in the hotel.
Pick-up and transfer to Sta Ana Wharf. Boat ride to Samal Island passing through Pearl Farm, Malipano Island, Wishing Island, Coral Garden, Angel's Cove and Isla Reta. Picnic lunch in one of the island. At leisure to swim and snorkel. Return to the hotel. Overnight Davao.
Day 12 – Davao/Departure (Breakfast)
Breakfast in the hotel.
Transfer to Davao Airport for flight to Manila to connect to International flight./END


Package Inclusions:
-All transfers as per itinerary, boat to White Island
-Half day Manila City tour
-Half day Cebu city tour
-Full day Bohol Chocolate Hills with Loboc rivercruise + lunch onboard
(Private land Tour, shared rivercruise up to 9 persons, 10 and up exclusive/private)
-Camiguin Island Tour
-Eden Nature Park with lunch
-Samal Island hopping with lunch
-Two nights with breakfast at Golden Phoenix Hotel
-Two nights with breakfast at Bohol Beach Club
-Overnight with breakfast at Bluewater Maribago Resort
-Overnights with breakfast at Bahay Bakasyunan
-Overnight with breakfast at Seda Centrio, CDO
-Three nights with breakfast at Seda Abreeza, Davao
-Services of English Speaking Guide during tours
BOOKING GUIDELINES & CONDITIONS
RESERVATION AND CONFIRMATION
Send in all pertinent details of the booking by e-mail at rsvn@kbsthailand.com. KBS TRAVEL & INTERTRADE COMPANY COMPANY LIMITED will do the reservations based on your requirements. It is important that details are provided and complete to facilitate immediate confirmation. It is our policy to answer messages within 24 hours on working days. In case we are unable to confirm requested services, alternatives will be given. Special requests or services, such as vegetarian or handicapped must be indicated upon booking.
VOUCHERS
KBS TRAVEL AND INTERTRADE COMPANY LIMITED will send Voucher which indicates the details or services to be rendered to you/company. Any changes shall be provided only with your prior advice, otherwise services in the latest communication and documents available shall be provided.
TOUR AND PACKAGE RATES
All rates are quoted in THAI BAHT and not include Value Added Tax (VAT). We engage ourselves in confirming the rates within the inclusive period, however should there be any drastic adjustment in currency, fuel cost, hotel or supplier's cost or any event that have direct effect on our rate structure, such shall be accounted and adjustment will be advised at the time of final confirmation.
CONCESSIONS and CHILD POLICIES
Room concession will vary from the hotels and resorts policies. Children ages 12 years and above are quoted as adults, while 2 - 11 years will be charge 80% on tour packages.
DEPOSITS / PAYMENT / REMITTANCE
Deposit or full payment is required upon confirmation or 30 days prior to the clients' arrival, unless other arrangement has been previously agreed upon. However, full payment shall be imposed to confirm reservations during peak season and for group movements and incentives.
Payment may be made by bank transfer with below details ;
Bank Name : BANGKOK BANK PUBLIC COMPANY LIMITED
Account Name : KBS TRAVEL AND INTERTRADE CO., LTD.
Bank Account No. : 192-4-26953-1 (SAVING ACCOUNT)
Branch : SUAN SAYAM

REMARKS
All bank charges and fees incurred shall be borne by the depositor. KBS TRAVE L AND INTERTRADE COMPANY LIMITED must receive nett as per invoice.
We will appreciate to receive a copy of the Bank payment advice so we can coordinate effect of credit. Bookings not paid on the departure day, KBS TRAVEL AND INTERTRADE COMPANY LIMITED has the right to collect directly from the clients unless with prior arrangement.
CANCELLATIONS
As a matter of practice, we do not charge cancellation fees, but if hotels or other suppliers do so, we shall pass on to you. We therefore encourage you to be conscious on the options and deadlines.
LIABILITY
KBS TRAVEL AND INTERTRADE COMPANY LIMITED acts only as intermediary for transport operators (outside its own fleet), airline carriers, hotels, resorts, restaurants, and other contracted suppliers and as such, will not be liable for any loss, misrepresentation, delay, injury, damage, accident or any irregularity event. Likewise event that may occur due to passenger/s initiative outside previous arrangement with KBS TRAVEL RAVEL AND INTERTRADE COMPANY LIMITED or agency. Cost incurred due to any of these consequences shall be borne by clients, however KBS TRAVEL AND INTERTRADE COMPANY LIMITED will extend maximum assistance. In view of these, KBS TRAVEL AND INTERTRADE COMPANY LIMITED encourages everyone to procure their travel insurance coverage for the duration of their trip.