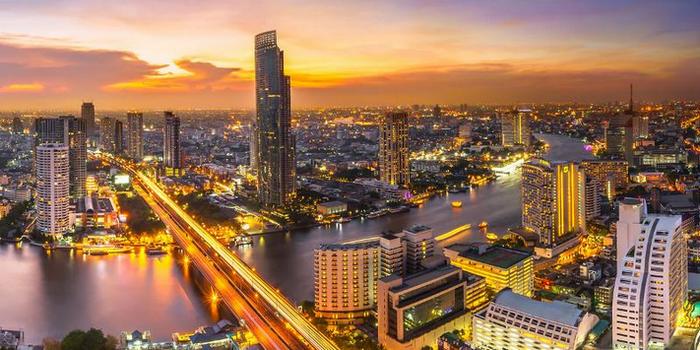 Bangkok, official name Krung Thep Maha Nakhon, is the capital of Thailand and, with a population of over eleven million inhabitants, by far its largest city. Its high-rise buildings, heavy traffic congestion, intense heat and naughty nightlife may not immediately give you the best impression — but don't let that mislead you. It is one of Asia's most cosmopolitan cities with magnificent temples and palaces, authentic canals, busy markets and a vibrant nightlife that has something for everyone.
For years, it was only a small trading post at the banks of the Chao Phraya River, until King Rama I, the first monarch of the present Chakri dynasty, turned it into the capital of Siam in 1782, after the burning of Ayutthaya by Burmese invaders but they did not take over Ayutthaya. Since then, Bangkok has turned into a national treasure house and functions as Thailand's spiritual, cultural, political, commercial, educational and diplomatic centre.
A side of the city itself, Bangkok is also surrounded by many interesting provinces that are worth visiting.
1.) Located at the north of Bangkok are Nonthaburi and Pathum Thani provinces. They have many attractions such as Koh Kret and Lotus Museum.
2.) Located at the east of Bangkok is Chachoengsao, a small province with many interesting attractions and activities. Tourists can pay homage to Luang Pho Sothon Buddha Image at Wat Sothon Wararam Worawihan, watch flying foxes, also known as fruit bat, at Wat Pho, see the golden church at Wat Paknam Jolo, and pray to the giant reclining of Ganesh statue at Wat Saman Rattanaram. There are also old markets for you to visit and shop such as Ban Mai Market, Nakhon Nuang Khet Market, and Khlong Suan Market.
3.) Located at the south of Bangkok are Samut Prakan Province and the Gulf of Thailand. There are many tourist attractions such as Bang Pu, Ancient City, and Samut Prakan Crocodile Farm and Zoo.
4.) Located at the west Bangkok are Samut Sakhon and Nakhon Pathom provinces. Tourist attractions include Don Kai Dee Benjarong Village, Phra Pathom Chedi, Sanam Chandra Palace, Don Wai Floating Market, Sampran Riverside, and Thai Human Imagery Museum.